OLP Library Research Help
Finding Relevant Information in the Online Databses
How to Find Relevant Information Using the Online Databases
A: Click here for the list of links to the online databases.
The librarian may have already told you which databases to use. In that case, skip to the next step. Otherwise, scroll down the list and read the descriptions of the different databases. Choose one that you think may contain information about your topic (but skip World Book since it's just for general understanding and now you need in-depth information).
BONUS TIP #1: You will need usernames, passwords and/or barcodes to access the databases. These can be found in the Google Doc on the left-hand column of this webpage.
Use your keyword chart from your Creating Search Terms worksheet to create searches.
Start your search by using broad search terms (ex: women and Elizabethan England). This search may bring up very general articles, like the ones you found earlier from the World Book site, they may be more specific, or they might be a combination of both. If you find articles that provide more than just an overview of your topic, use them!
Next, use a combination of words from your keyword chart, taking a word from 2 or 3 columns. Connect the words by using and. (example: women and England and 1500s). This tells the online databse that you want articles that contain all three terms.

Not getting enough results? Try using a combination of two search terms from the SAME column and combining them by using *or. (example: England or Britain) This will increase the amount of results you retrieve.
BONUS TIP #2:

Here's a diagram that shows the effects of the Boolean operators AND, OR: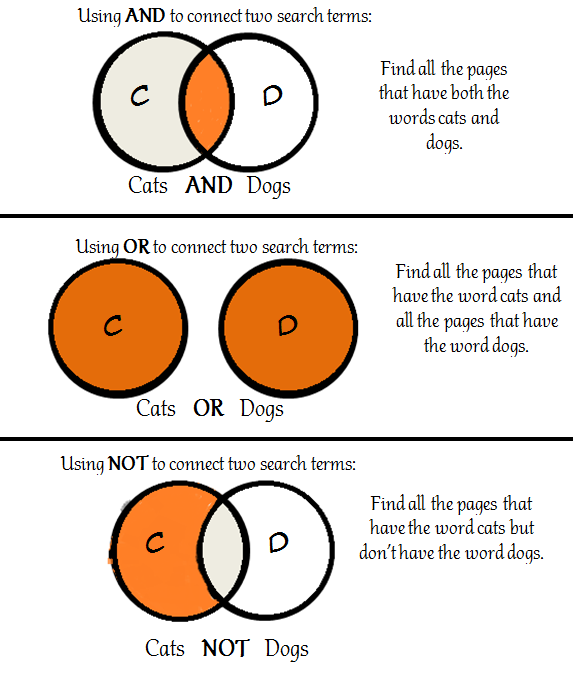 BONUS TIP #3:

Here is a review of the keyword chart from your Creating Search terms worksheet.
What are some possible searches you can create for your topic? Get creative! Use this online thesaurus to help you generate more synonyms for your topic. As you enter different combinations of search terms, you may notice that there is a bit of trial and error at work. Keep trying until you find the info you're looking for!
B. Scan/read the articles and email them to yourself.
When reading a relevant article, look to the columns on the right or left hand side. You should see an Email option or icon. This allows you to send the article directly to your email. Then you can forward it to other students in your group and you have it saved in your email in case you need to refer back to it for your notes or for citations.
You may also use the Citation feature in the side column to generate an MLA citation for your article.
IMPORTANT NOTE ABOUT CITATIONS: Unfortunately, the databases can make errors in the formatting of their citations. It is critical that you carefully check your citation before submitting it among your citations. Not sure how to check MLA citation formatting? Go to our MLA Citation Style Guide for more info.
Before you move on from the Step 2/Step 3 cycle, be sure that you have:
Emailed/saved MORE relevant articles from databases than your assignment requires.

Taken notes on each article you saved and noted which article the notes came from so you can properly cite it later on.

Record

ed the MLA citations for each article.